Saving Money & Preventing Mistakes by Eliminating Duplicate Data Entry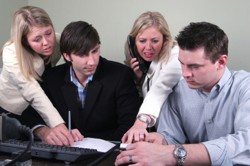 A major problem facing many industrial organizations is how to avoid wasting time and making mistakes in entering the same data into multiple systems.
ERP vendors once held out the promise of one system that would provide all the features that everyone needed, all in one integrated system.
This approach failed failed because it became too complex to achieve in practice. So, today, industrial organizations use a variety of systems. Some of these systems are installed on computers within their own facilities and some are hosted in the "Cloud".
For more details on why the "one-size fits all" approach failed and how the MilramX software solves these problems, please click on the following link to download a PDF white paper on "Avoiding Duplicate Data Entry"
With standard interfaces, such as ODBC and SOAP/XML it is possible to write computer programs to automatically exchange data between these different applications. But developing such interfaces as a custom program is expensive and time consuming due to the number of data objects to be exchanged and the complexity of the error checking needed.
To make it quicker and less costly to develop these interfaces, Milramco developed a software framework and software developer's toolkit (SDK) called MilramX. MilramX provides over 90% of the code needed for implementing these interfaces in the form of code libraries, automated code generation routines, and data transfer control mechanisms.