Availability of the MilramX Real-Time AI software platform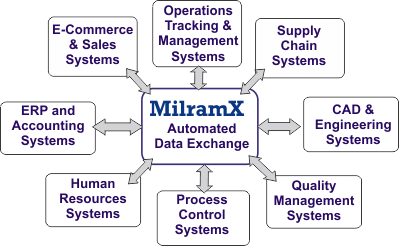 MilramX is a real time Artificial Intelligence (AI) platform whose primary function is integrating the industrial enterprise and supply chain by "Making sure that everyone in the organization has the information they need to do their jobs, when they need it".
MilramX uses the paradigm of collaborating -intelligent-agents to capture data from external systems, analyze that data, and export the resultant information to other systems as well as to send the information to people in the form of text and Email messages.
In the USA and Canada, MilramX is sold by KnarrTek Inc. which also assists industrial clients in the application of the MilramX software. Please see their website at www.KnarrTek.com for more details.
MilramX is also available on a commercial OEM licensing basis for integration into other organization's software and system's projects. Please select the [Contact] button below for more information.
To encourage students to learn about the intelligent agent paradigm, Milramco LLC makes the MilramX software platform available to educational institutions for non-commercial educational use without payment of license-fees.