Intelligently Integrating the Industrial Enterprise and Supply Chain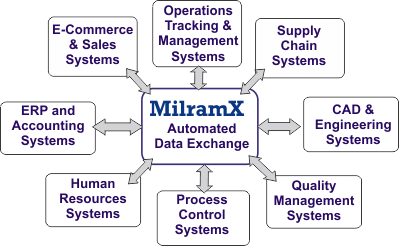 MilramX is a software platform that can cut the time to implement automated data exchange between systems used for industrial operations management by an order of magnitude.
MilramX does this by providing over 90% of the needed code pre-developed or automatically generated. MilramX then provides a framework for rapidly implementing the remaining code in such a way that the interface can reliably run 24x7 with minimal human interaction.
Most, or all, of the data exchange is controlled by artificial intelligence rules that can be imported into MilramX in the form of Excel spreadsheets. This enable MilramX to intelligently transfer data from the systems used by one "silo" or department in an organization to those used by another. MilramX has the embedded intelligence to only transfer data changes in the source systems that are of interest to users of the target system. And it does it in such a way as to convert the source data into useful intelligence for the users of the target systems.
An important use for MilRamX is in eliminating duplicate data entry into different business applications. Interfaces implemented using the MilramX can quickly pay for themselves by eliminating the labor needed for duplicate data entry as well as significantly reducing mistakes.
While MilramDEX is typically used for data exchange between two systems, it has the capability for performing many-to-many exchanges using a wide variety of interfaces such as ODBC, Web Services, and system specific SDK interfaces. MilramDEX monitors specified data in each source system for changes and then transfers only newly updated data to the target system(s) thus making for very efficient transfers with minimal load on source and target systems.
The benefits of MilramX, however, go way beyond the simple automated transfer of data in that MilramX can automatically alert managers and other staff whenever it detects there is situation that needs their attention.